Best in the World was held in Concord, NC on 6/24/2016. This was a PPV event but the Video On Demand can be purchased at
ROHWrestling.com
.
Written by: Erik Vasquez
The opening package chronicling the ROH World Heavyweight Championship reign of Jay Lethal, specifically in the past month, was very well done. Great weaving of the Jay Briscoe/Jay Lethal feud in the package as well.
Kamaitachi vs. Kyle O'Reilly 

From a wrestling standpoint this match was very good. O'Reilly targeted the arm of Kamaitachi while both his legs were the focus of Kamaitachi's offense. Smart of O'Reilly to target his arm to get it nice and ready for the cross arm breaker. This match was also very heavy on the strikes. Obviously anything O'Reilly does I love and I'm man enough to admit that this was my first viewing of Kamaitachi. Although it wasn't much it was enough to make me want to see more. I dig Kamaitachi's easy going swagger.
Winner via Submission: Kyle O'Reilly
Flame Emoji Rating: 3 out of 4 🔥
After the match O'Reilly extends his hand as a show of good sportsmanship. Kamaitachi spits in O'Reilly's open hand. Ewwww.
Silas Young vs. ACH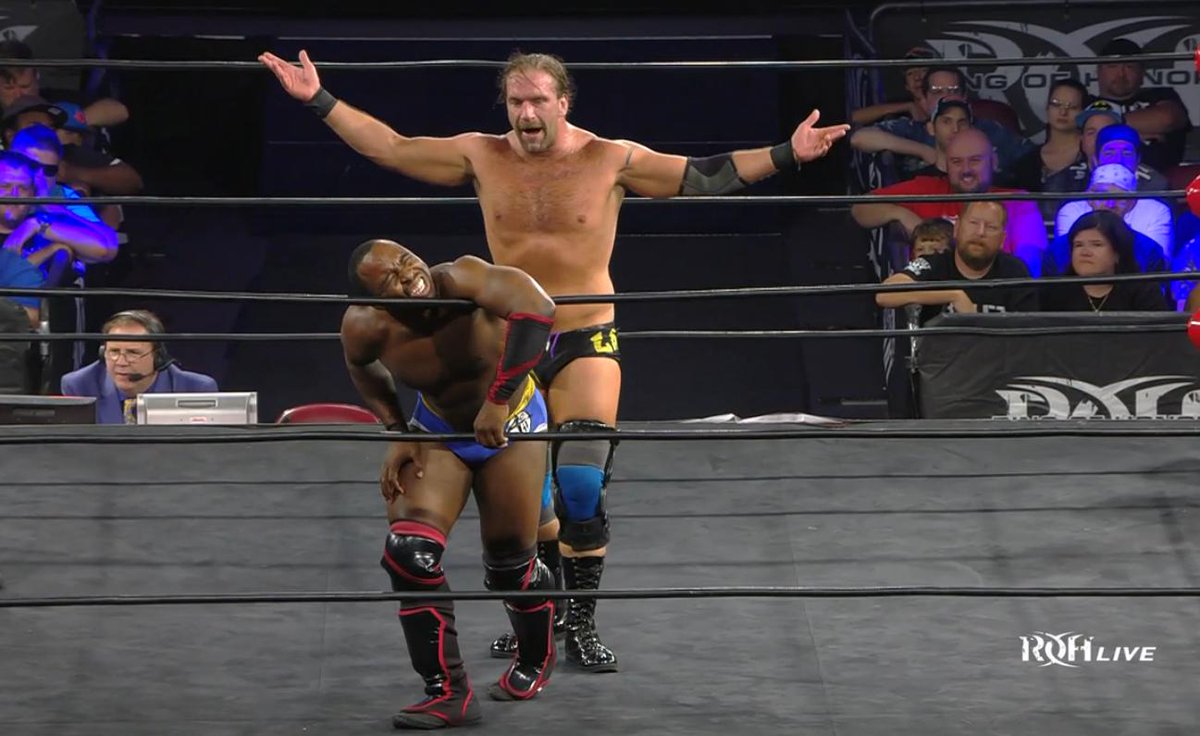 This was a very interesting match due to the contrast in styles. For much of the beginning Silas was in control of the offense. He made sure to keep the high flyer ACH grounded by attacking his core. ACH knew he needed to change up his strategy so he attacked Young with quick offensive strikes. An agitated Young goes out and grabs a chair but any devious plans he had in mind were thwarted by the officials and ringside security. ACH uses this opportunity to land his step up tope con hilo. Young briefly had the offense in his favor but he got to cocky and tried to add his own flash to the match. ACH avoids Young's corner rope moonsault. ACH plants Young with a brainbuster then lands a 450 splash for the win.
Winner via Pinfall: ACH
Flame Emoji Rating: 2.75 🔥
Mark Briscoe vs. Roderick Strong

This was a very hard hitting, physical match. Both men countered each other move for move with no one competitor gaining the upper hand for too long. I was very impressed by Mark Briscoe. When you're part of a long standing tag team and your partner happens to be your brother, you're bound to be subjected to comparison. Jay was once an ROH World Champion while much of Mark's success comes from tag team wrestling. This was one of the better showings from Mark Briscoe during his singles run that I can recall. He really made you believe he could go toe to toe with Strong whose possesses an unfathomable amount of knowledge and experience. Mark Briscoe did just that. He defeated Strong after a vicious fisherman's buster. Highly entertaining contest.
Winner via Pinfall: Mark Briscoe
Flame Emoji Rating: 3.5 🔥
After the match both competitors adhere to the Code of Honor handshake then embrace. This would be Roderick Strong's final ROH appearance as he has chosen to pursue other opportunities. Read his statement
here
.
War Machine & Moose vs. Bullet Club (The Young Bucks and Adam Cole)

We got your superkicks, Too Sweets, and Moose dropkicks fix in this one. This six man tag match was contested under tornado rules which meant it was no disqualification and no tagging was necessary. So as you can imagine this match was a complete car crash. A car crash complete with above mentioned superkicks and dropkicks, Hanson damn near killing himself on a dive, Hanson getting his noggin scrambled attempting a moonsault and getting superkicked and more. A fun, highly entertaining car crash. Bullet Club notches another W with a Meltzer Driver from The Bucks. 
Winners via Pinfall: The Bullet Club
Flame Emoji Rating: 3.5 🔥
The Addiction (c) vs. Motor City Machine Guns for the ROH World Tag Team Championship

This was a great match showcasing solid, fundamental tag team wrestling. All four men come with top tier knowledge and experience. This match also had a very basic but solid heel vs. face dynamic which added nicely to the match. The pacing was very quick but flowed very well, obviously that would be the case with these veterans who know how to get the job done. Wasn't one sided which was also good to see. During the match Kamaitachi comes to ringside and hits newest ROH acquisition Jay White who is just a spectator tonight. This starts a brawl between Kamaitachi and White going from ringside to even spilling in the ring. During all the confusion Daniels hits Shelley with a low blow. Addiction lands the Best Meltzer Ever and retain their tag team titles. 
Winners via Pinfall and still the ROH World Tag Team Champions: The Addiction 
Flame Emoji Rating: 3🔥
Steve Corino vs. BJ Whitmer in an Unsanctioned Fight Without Honor

I was strangely looking forward to this match. I felt ROH did a very good job of building this feud up over a very long period of time.  Even better, this build up contained many real life elements with Corino's older son Colby once being aligned with Whitmer and BJ stalking his family ala DDP and The Undertaker.
As far as the match it was an all out blood bath. Both men came out decked in white and by the time the match was over their white gear was literally blood red. Corino lost a tooth while BJ gushed blood thanks to having a beer bottle cracked over his skull then the remaining shards embedded into his forehead. Closing moments saw one of the most evil men in pro wrestling appear out of the darkness. Kevin Sullivan appears and just when the lights turn back on. Yeah, that Kevin Sullivan. He stares Whitmer in the eyes and pulls out a sharp object. Just when you think he's going to give Whitmer the business he turns around and spikes Corino right on the top of his forehead. BJ hits the exploder suplex for the win. The violence sure lived up to the hype, I'm just still trying to wrap my mind over seeing Kevin Sullivan in an ROH ring in 2016.
Winner: BJ Whitmer
Flame Emoji Rating: 2.75🔥
Bobby Fish (c) vs. Dalton Castle for the ROH World Television Championship 

This match was very interesting. The beginning saw both men match each other move for move. Both Fish and Castle have extensive amateur wrestling backgrounds and that was no doubt on display here. Fish did a great job of attacking Castle's leg but that didn't hinder Castle too much as he still got off plenty of throws and German suplexes. The match even went outside and spilled beyond the barricade. A couple of times both men barely got in the ring before the referee's count of twenty. Closing moments saw Dalton attempt the Bangarang but Fish was able to counter the impact into a roll up for the win. Solid. Nothing mindblowing but a fun watch. 
Winner and STILL ROH World Television Champion: Bobby Fish
Flame Emoji Rating: 2.75🔥
Before the main event ANX and Caprice Coleman came out to announce that collectively they will be known as The Cabinet. That's basically the only important piece of information you need about that segment.
Main Event: Jay Lethal (c) vs. Jay Briscoe for the ROH World Heavyweight Championship 
I've said on social media that Jay Lethal is our generation's Ric Flair and I firmly believe that. He is the complete package in terms of in ring work and on the microphone. He gives every match an aura of importance and many of the matches he's had during his one year reign as World Champion could be considered for match of the year candidates. If he's the Ric Flair of this generation who would Jay Briscoe be? Dusty? Steamboat? Bottom line is these two have a chemistry that is magical inside that ring. Sure this is only the second time or so they've collided for the title but both matches the flow and pacing showed that both men didn't even need to speak to communicate in the ring. That is magic.
This was a pretty good match although not as good as their Best in the World 2015 match. The beginning was very neat as each man tried to one up the other. The meat of the match was very slow and methodical. Some nice work on the outside with both men hitting multiple very dangerous dives through the ropes. Lethal catches Briscoe off and lands a vicious guillotine cutter from the apron to the floor. Huge moment toward the closing sequences saw Briscoe hit his own Lethal Injection then a Jay Driller but it only got him a two count. If Briscoe was going to win this match that was his moment right there. Lethal gets the upper hand and throws all his chips on the table with a cutter from the top rope. He hits a Lethal Injection for good measure and picks up the win to continue his amazing run as champion.
Winner and STILL ROH World Heavyweight Champion: Jay Lethal
Flame Emoji Rating: 3.25🔥
After the match both men, exhausted, show sportsmanship and adhere to the Code of Honor. Streamers fly down as the crowd chants for both men while they stare at each other in respect. That's it for the show.
Overall I thought this was a good PPV. A few matches that I was hoping would leave people talking felt underwhelming but still this was worth the price of purchase.
Thanks for reading and please let me know what you thought of this recap and Best in the World in general by visiting any of these social media links. Feedback is always greatly appreciated.
The Wrestling Chronicle
Facebook/Twitter/Tumblr/Instagram/Google+
Use our Amazon link when shopping on Amazon and help us out!
http://rcm-na.amazon-adsystem.com/e/cm?t=thewreschro02-20&o=1&p=13&l=ez&f=ifr&f=ifr&linkID=XPB76JR2MOHD336L